Why Website is a required for every business?
Big businesses or small, having a website is of utmost importance. With the online revolution today it is only through a well designed and maintained website one can gain credibility. Apart from this, a professionaly optimised website makes you accessible globally, provides a medium to showcase your work, saves your time and enables you to be in touch with your customers 24x7.
Need more reasons to get a website done?
HTML Website
HTML (Hypertext Markup Language) is a widely used language that is easy and flexible. The main advantages of having a HTML website are that it is an open technology that supports every browser, consistent and efficient an HTML site take less time to load, is understandable and helps i0n creating search engine compatible pages.
Advantages of HTML Website:
HTML is free
Most development tools support HTML
HTML is most search engine friendly
At times you just need HTML
WordPress Website
WordPress is a versatile, free online software that can be used to create a website or a blog quickly. It is an open source website development and creation tool that uses PHP for coding. Its robust features and user-friendly interface have made it one of the most widely used tools for website creation.
Advantages of WordPress Website:
User friendly interface
Manage your website from any computer
No HTML editing or FTP software required
WordPress sites are loved by search engines
You have control of your site
100% customizable design
Built-in and ready to go blog
Availability of plugins
Website scalability
Multiple users can work on the same site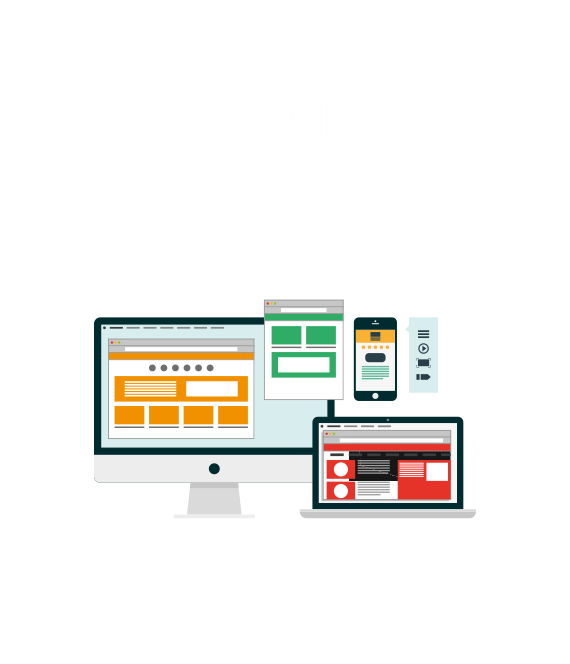 HTML5 Webiste
HTML5 is a language that has been developed to structure and present responsive content on the Web Pages. The main advantages of developing a website in HTML 5 are Improved code, Elegant forms, Consistency, Supports media elements audio and video, Offline Application Cache which helps in loading the page faster.
>Advantages of HTML 5 Website:
Built-In Video/Audio Playback
Mobile Optimization
Browser Cross-Compatibility
Cleaner Code
Offline Caching
East Accessibility
Doctype
Smarter Storage
Better Interactions
It is the Future!
PHP Website
PHP stands for Hypertext Preprocessor. Earlier it was called, Personal Home Page. PHP is a server-side, HTML embedded scripting language that is used globally in website development. This tested, proven and trusted language is cost efficient, easy, platform independent, speedy, secure, and can be run on may platforms.
Advantages of PHP Website:
Free
Simple and easy to learn
Support various media
Freedom of integration
Frameworks
Easier to fix problems
Scalability
Object Oriented
Speed
Joomla Website
Joomla is a very renowned free open source Content Management System that enables you to build websites and various online applications with complete ease. Extendibility, mobile ready & user-friendly nature of this CMS makes it trustworthy worldwide. With Joomla, you can create a full-fledged, dynamic website easily.
Advantages of Joomla Website:
Publishing blogs on Joomla is as easy as ABC
Open Source Infrastructure
Flexibility
Content Management gets simple
E-commerce becomes easy with Joomla
A strong user community
Built-in basic SEO functionality
E-commerce Website
E-commerce site facilitates safe and secure monetary transactions and payments over the internet. Types of e-commerce sites are retail, auctions, music, B2B services, financial management and insurance sites. Amazon, Flipkart, Gaana, iTunes are some of the noticeable examples of these websites.
Advantages of E-commerce Website:
Convenience
Offer product datasheets
Attract new customers with Search Engine visibility
Comprise warranty information
Decreasing cost of inventory management
Keep eye on consumers' buying habit
Competence
Platform to use Word-of-mouth
Boost brand awareness
Expand market for niche products
Ability of multi-site
Analytics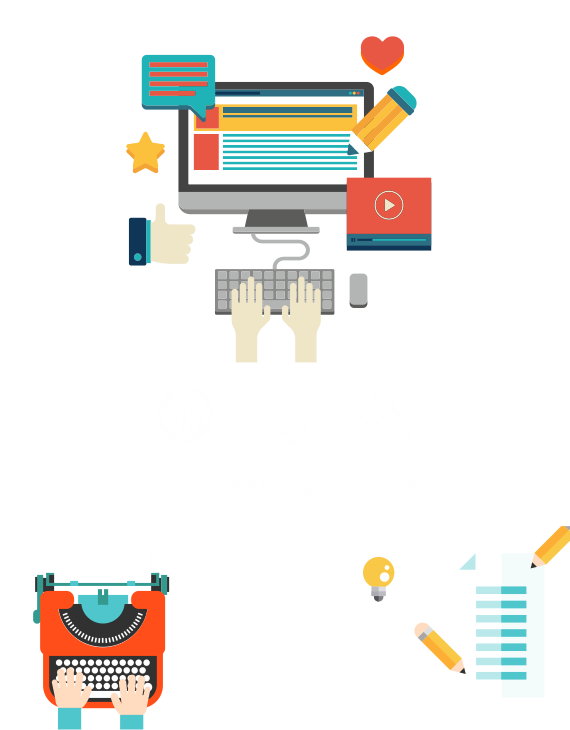 Content Management System
What is CMS (Content Management System) and how its useful?Content Management System can be defined as a software application or set of related programs that are used to both create and manage digital content. CMSes are mainly used for enterprise content management (ECM) and web content management (WCM). The use of CMS makes content publishing easy and cost effective.
Advantages of Content Management System are:
Full template support and customizable templates
Intuitive indexing i.e. SEO frienldy URL's can be enabled
Integrated and online help, including discussion boards
Group-based permission systems
Easy wizard-based install and versioning procedures
Admin panel with multiple language support
Content hierarchy with unlimited depth and size
Minimal server requirements
Integrated file managers
Integrated audit logs
Content modification can be done easily and quickly
Difference between Static & Dynamic Website
HTML language is used to develop a static website. On the static website, whatever is in the code is displayed to the user. Static websites are cheap and quick to develop, but when it comes to changing and updating content, one needs to be well versed in HTML language. These sites lack scalability factor.
The Dynamic Website is written in server-side scripting language such as PHP, ASP, JSP, or Coldfusion. The main advantges of Dynamic Website are that these sites are much more functional than static ones, easier to update, web pages can be made SEO savvy and users can be attracted via updated content, exceptional layout and designs.
Website Design
If you are looking for WEBSITE DESIGN. Please contact us